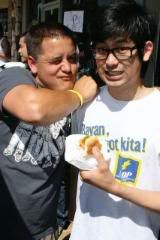 While at the Store 13 BBQ, during a HEATED foosball sesh…the homey & hot dog connoisseur Mike over at Keepin' it Right mentions that version 2 of Kanye's Flashing Lights video, "was just like The Police video".
What f-ing Police video? Roxanne? Message in a Bottle? Shape of My Heart? (that was post Police)…
No No & No – although he couldn't recall it on the spot, he did promise a three step email that would unlock the mystery of the video which I've reprinted below…
Step 1:
Watch this video:
http://www.youtube.com/watch?v=BRoUpDON0_0
Step 2:
Read this blog entry:
http://www.thefader.com/articles/2008/5/27/video-kanye-west-flashing-lights-alternative-version
Step 3:
Watch the video on the above linked blog entry.
dammit Mike, you're already up on version three by the time I finished this sentence.
Tags:
kanye
,
sting