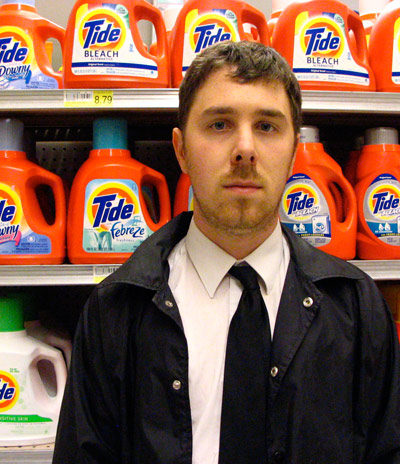 Actually, James Pants is the artist behind, Welcome –his debut album for Stones Throw Records. I got my grubby mitts on an advance copy while sippin' 10 Cane drinks at the In Living the True Gods screening/release party. It comes out in April -so you'll be hearing more about it as the release date comes closer. Right off the bat, you can expect something left of center and a well-thought out record -down to the drum placement and prominent hi-hat in the first track's mix.
If you know absolutely nothing about James, he met PB Wolf at a party following his high-school prom in Austin, moved to LA to intern and eventually scored a deal Stones Throw. Also, this track he produced was on the recent Chrome Children album and is featured in the aforementioned DVD.
[youtube="http://www.youtube.com/watch?v=d63FTZcImcU"]  
P.S.
1. Boo! to the LAPD & the noise complainants that forced PB Wolf to considerably lower the volume during his DVD set.
   
2. A big, "get over it" to the young lady harassing people ahead of her in line for drinks, asking them if they've been in line the whole time. 
3. Thanks to Sandy and safe travels to her cousin Nina on her world-wide adventure