Apparently the hottest party in New York City is on a fucking bench.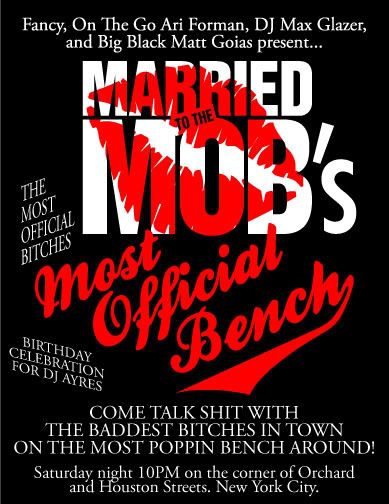 Exhibit A: The Most Official Bench 
Yup, everyone's (BB$ excluded) favorite bitches and friends recently threw a soiree for DJ Ayres on and adjacent to a fomerly non-descript wooden bench. The HBIC (Leah) of MTTM also found this, "happening", to be a little ridiculous saying,
" It's just a bench but now that MOB and alife have hosted nights there, we are figuring that lots of corny people will follow. That's what this scene is all about anyways isn't it? Following. Copying. Nut hugging. Then pretending like you're shit means something. Yup I said it bitches and I'm not saying sorry for it. Kiss my ass. HA!"
Check MOB Living for the video…Oh wait, there's more
Exhibit B:Â MISSBENCHAVE
is it the lead in the New York tap water and has Omaha Nebraska been one up on the streetwear market for decades?  
"The Bench" is quickly becoming the official conduit of social interaction and the font of American Culture -filling a void left by celebrities.
Anyway, I heard that there was some super downlow piss-stained couch party in the City and you have to buy a map from some Dutch Gabba blog to find it -so exclusive!!!
**Polaroids of GG action on the actual bench are much appreciated.